Do your dolls love making cookies as much as mine? Cookie sheets are a super simple one day project. Real baking sheets come in all different shapes and sizes, thankfully, so one is not limited to a specific dimension for their dolls.
For this project I have employed craft store pressed board pieces. They are thick enough that they won't break easily, but not too thick that they look out of scale- my biggest pet peeve.
I purchased this package at Micheal's- an arts and crafts store. Four come in a package.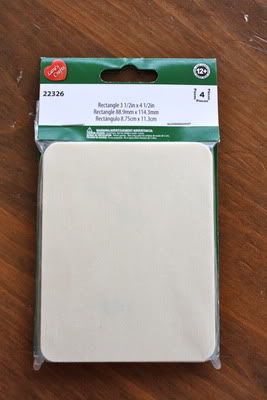 Other materials needed:
primer
silver metallic spray paint
220 or 180 grit sandpaper
tack cloth
Lightly sand the board then use a tack cloth to remove dust particles. Coat once with primer on both sides. Allow to dry then sand. Next apply metallic spray paint. I probably over killed the painting process with 6 coats of metallic, but I wanted a very durable finish. Remember to sand between each coat of paint.
And as a side note for those questioning the historical accuracy... Would Kit have baked chocolate chip cookies? Probably not, as they did not gain popularity until around 1939. A stretch for Kit, but not inconceivable.