Tell your dolls to mark their calendars!
On August 15th my Etsy shop will finally re-open with tons of mouth-watering items to choose from. The Pippaloo kitchen has been busy at work preparing some of the old favorites, plus cooking up some exciting new items as well. All items will be listed and available by 12 noon EST.
http://www.etsy.com/shop/pippaloo
Last weekend I hosted a fancy picnic party for my dolls and included some of the foods I will be offering come the 15th. They all raved and agreed that everything was divine. My dolls convinced me that we needed to post a few pics from the party, plus reveal a few additional sneak peeks of some of the other upcoming items available next week.
Here the girls were enjoying the fabulous summer we've been having.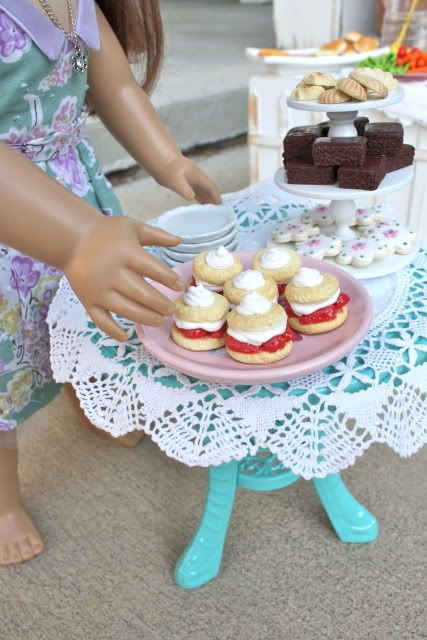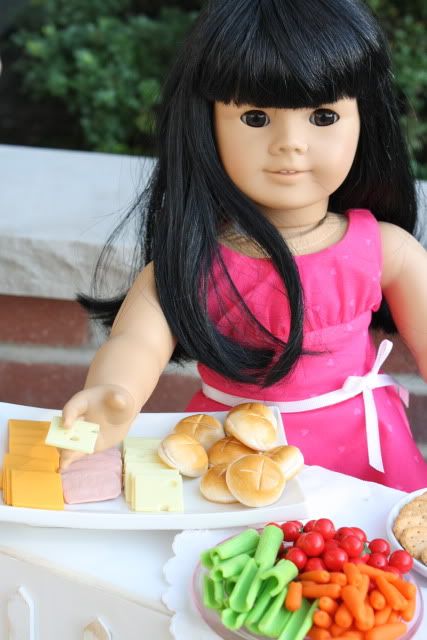 Some other sneak peeks:
Below is a complete list of all of the items I will be offering for August.
Please understand that once I sell out of many of these items, I will not be able to offer them again for some time.

mini lollipops doughnuts
brownies deviled eggs
tea cookies strawberry shortcake
Felicity's Queen cakes
cracker, cheese and fruit presentation
chocolate sandwich cookies swirl lollipops
peanut butter cookies veggies
pop tarts meatloaf
waffle cones potatoes w/ slices
chocolate covered ice cream bar fruit sets
s'mores peanut butter & jelly
mac-n-cheese grilled cheese
cheeseburger and fries pizza
corn dogs pb & j "uncrustables"
spaghetti & meatballs pancakes
ham sandwich w/ cheese crackers chocolate chip cookies
almond cookies