Caroline's Table and Chairs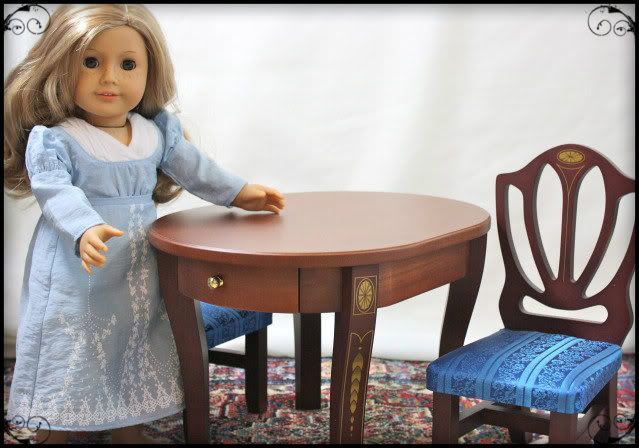 I have to admit there's only one thing I like better than shopping for new furniture.... and that's shopping for new wee doll furniture! Believe it or not here at the Pippaloo kitchen I do not own all of the American Girl table and chair sets....not yet, anyway. :)
Caroline's table and chairs is one of American Girl's latest furniture offerings. It is a 19th century styled oval wooden table featuring gold tone accents and dual drawers. The two shield back chairs are upholstered in a dark blue silky brocade. All three pieces are finished in a rich mahogany.
What I love:
~The chairs have ample seat room so Caroline can sit comfortably without falling or slipping off. The shield back design was shrunk down triumphantly to doll size. The proportions and the curves are just right.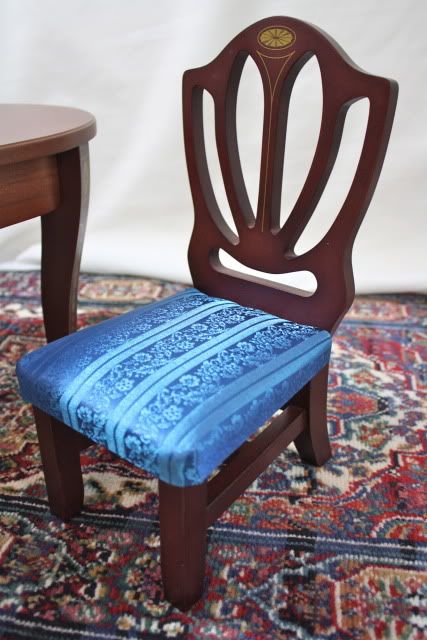 ~The drawers pull forward easily, but do not pull out entirely from the table- a boon to those who tend to loose pieces and parts to things. I loaded up one of the drawers with a few heavy foodstuffs and miscellany- and the table stood firm it's ground. The drawers are perfect for storing cutlery, napkins or foods- keeping them free at hand for meals.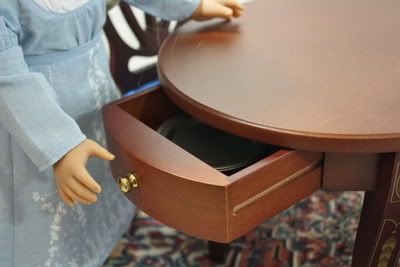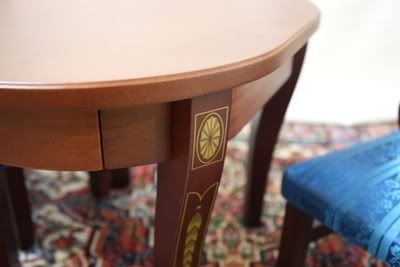 Love the little routed table edge and the gold faux inlay. The small details make all the difference.
What I don't love:
~The seat legs are a touch low to the ground, making the chair seem to have an overall squat appearance.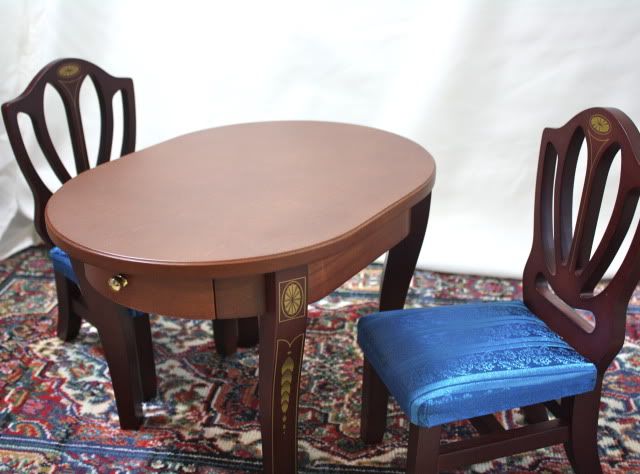 ~The mahogany finish on my table and chairs were not a perfect color match, as demonstrated in the photos. The chairs are a touch darker in tone. Perhaps this a a flaw specific to the set I purchased. It's not bothersome enough for me to return it however.
~The $140 price point for this set seems high. I am a firm believer in that you get what you pay for. However, at that price I would have expected some other accessory bundled with the table; the ubiquitous flower vase or even a table cloth to accompany it. Kit's patio table and chairs are made from a sturdy heavy metal and those are priced at only $90. The $140 price point make Felicity's tilt top table and chair's secondary market prices seem reasonable.
Still overall Caroline's table and chairs is a great addition to the American Girl furniture line up. It will transition well as an antique piece for dolls of generations beyond Caroline's time period.
I hope my doll Summer was a suitable stand in for Caroline in the above pictures. She was so happy that she got to do the modeling for the day.
Coming soon:
a few foods for Caroline....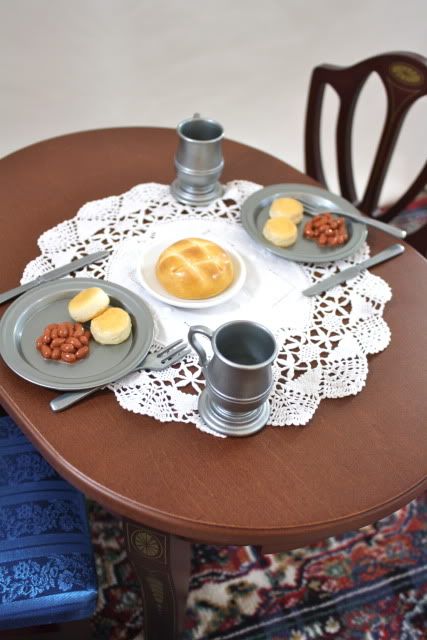 Tomorrow I will have a complete menu list up for November 13th's, new items. Due to Hurricane Sandy I'm days behind schedule and won't have quite as many items for the 13th as I had hoped.